Grace Mission wouldn't exist without our volunteers. Please
email volunteer@gracemission.net or call 850-224-3817 to connect with us. Thank you!
Grace Mission operates on a small staff and a multitude of volunteers! We have many different volunteer opportunities for individuals or groups, schools, fraternities, sororities, or other community service organizations.
Opportunities
Building - painting, maintenance, and grounds keeping
Organization - communications and administrative skills
Worship - musicians, welcome team, set up, and clean up of worship space
Feeding - budding/experienced chefs, kitchen crew, serving, clean up crew, PB&J preparation, and delivery
Medical - nursing teams, counselors
Clothing Closet - collect and sort donations, volunteer on clothing give-away
Showers - supervise showers, clean bathroom, show hospitality
Gardening/Landscaping - planting, weeding, and cultivation
Driver - help Church members and enable them to attend worship
Special Events - planning, organizing, and decorating
On-call Maintenance - skilled experts who can repair or advise on building needs
Please use this QR code for more info: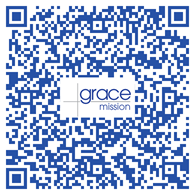 Testimonials
As a medical student with the benefit of hindsight, I am floored by how lucky I was to have discovered Grace Mission as an FSU student. I volunteered with the children's program for three years, and it's hard to overstate the impact this had on me both personally and professionally. Grace Mission does incredible work for the families it serves, and I feel deeply grateful to have played a small part of that work.  
- Alex, an FSU Ambassador
Grace Mission really shaped my college experience. I got to connect with many loving people and create relationships that transformed my life. Working with children reminds you of the beauty of this life, and I can't be more grateful to have had such a wonderful experience in my time with Grace Mission.
- Idel, an FSU volunteer